My cousin, 18 times removed*, wanted a pink velcro wallet.

She was tired of trying to find her wallet at the bottom of her bag. I told her I would make one for her. About a year ago.

I bought the supplies awhile back at RCT Fabrics.

Her hubby just got a permanent job and they are moving from relatively close by to much further away. This was the kick in the butt I was waiting for.

***Her mom is my mom's niece which makes me and her 'cousins'.
I made the pattern myself after searching fruitlessly on the internet. I did find some inspiration.
The angled pockets are from this tute.
However, she didn't have a closure. Decisions about velcro or magnetic snaps had to be made. She did have a hint of making everything bigger and trimming later and this worked with my outer and inner fabrics stretching a bit.

Her card pockets all had the same depth. She had three and I thought why make separate pockets if they are in the same stack....
Velcro (trimmed narrow) on right edge before grosgrain ribbon

A couple of months ago, I made duck tape wallets for my nephews. It's basically the same system.
You make an outer piece.
And an inner piece. You make sections of card pockets, slip pockets, etc. Then you use bias tape/grosgrain ribbon to secure them together.
You have to decide what you want to include before moving onto the next step.

I wanted a gusseted coin pocket but could not find out how to add a gusset to the left hand side under the zipper pull without pulling out my hair and making ugly sewing decisions. I made a simple inset zipper pocket instead.

If anybody has seen instructions for a side gusseted coin pocket, let me know. They are almost always in RTW wallets. I'll need to buy one to disassemble....
Top part is inside. Bottom is outside of outer. I placed an ID pocket on the middle outside section as well as a hidden pocket (because I could). My thinking was not having to open the wallet to show ID and a CC could be placed behind that as well for purchases while out and about but not needing to flash everyone with the wallet contents.


To apply my grosgrain ribbon, I used my new (back-to-school) glue stick and smeared that on the grosgrain. Then I used my wonder clips to help hold as glue set and I sewed.
My second inspiration was this tri-fold wallet post on CraftPassion.
It wasn't quite what I was looking for but it did have a zippered compartment plus the same measurements as above which helped cement mine at 9.75" wide by 4.5" high. The inner part is 4.25" high..
The outer is a non-fraying thicker then Ripstop fabric. My inner - do you know how difficult it was to find PINK? - is a gridded taffeta that I love but it frays like crazy.


My third inspiration was this wallet on etsy. I loved the super zigzag stitching.
It looks very manly - balancing out all the pink.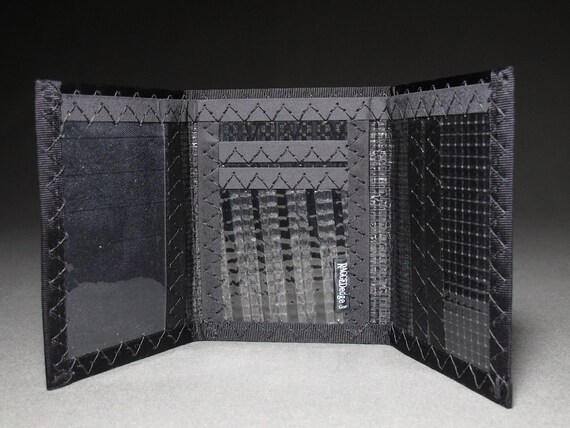 Giant money pocket. Will fit all bills. maybe even an i-phone. lol
I still wanted to break up all that PINK and found this dragonfly. He ended up a little to the right but I was getting kinda silly in the sewing room by then. I'm happy she's flying this wallet.



Last few notes::
I did add some sf-101 interfacing to the taffeta. With a press cloth. Almost melted it in one place.

I had some 1/4" dark pink double fold bias tape I used up for the individual sections of pockets. I didn't have any pink that was wider so used my black grosgrain which is an awesome finish for fraying fabrics. It's also a little tougher on the edges than bias tape which would wear through faster.

I don't know why I added the elastic cord loop except it was in the sack of materials so I must have had another inspiration somewhere. Not sure what you would hook on there but it does look awesome so maybe it's just 'the look' I was after.

Four hidden slip pockets. One under both card sections. Another under the coin section and a final one under the ID pocket. One can never have enough pockets.


We'll see if Colleen can use this or not. No pressure. It was fun to make.


forgot to mention:::colleen is the only gal in her household.